Treemendous success:
volunteers help new plants find homes on Tūpuna Maunga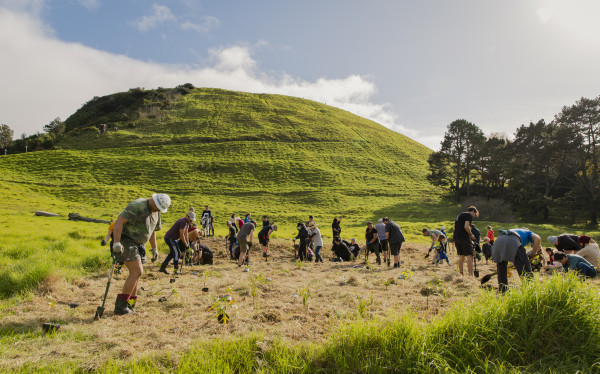 Volunteers working hard at the Tūpuna Maunga Authority community planting day on Maungarei / Mt Wellington, Saturday 2 July 2022. Credit: Tūpuna Maunga Authority.
Nāu te rourou, nāku te rourou, ka ora ai te iwi.
Working together we will all thrive.
A critically endangered ecosystem is 13,743 plants closer to be restored, thanks to the aroha and mahi of community volunteers.
Volunteer groups came together between June and August to support the Tūpuna Maunga Authority (TMA) in delivering a successful planting season.
In addition, 17,210 native plants were planted across the Maunga network by the TMA's contractors.
This year's planting mahi is part of the TMA's ongoing vegetation restoration programme. This programme includes proactive management of pest species (flora and fauna) and reintroducing native plant species in the hope of nurturing biodiversity on the Tūpuna Maunga. The ecosystem being restored—WF7 Pūriri Forest—was once widespread on the Tūpuna Maunga but is now critically endangered due to extensive historical clearance of indigenous vegetation.
TMA's conservation advisory team drew on the maramataka (the Māori lunar calendar) to select the best dates in terms of the moon phase for the community planting days to take place.
Planting season is never without memorable moments! This year offered getting caught in a thunderstorm at Te Pane o Mataoho / Te Ara Pueru / Māngere Mountain, and a hardworking bunch of schoolkids at Ōtāhuhu / Mount Richmond planting in record busting time, singing their heads off throughout.
Mahi mō te Taiao / Jobs for Nature funding is helping to support this important mahi for the next three years. The programme has helped to fund new conservation roles in the TMA operations team and for contractors. This additional resourcing means that environmental outcomes for the Tūpuna Maunga can be better achieved.
See you next year e te whānau!
MAUNGA PLANTED THIS SEASON WITH VOLUNTEER SUPPORT
Maungarei / Mount Wellington
Maungawhau / Mount Eden
Ōtāhuhu / Mount Richmond
Pukewīwī / Puketāpapa / Mt Roskill
Te Pane o Mataoho / Te Ara Pueru / Māngere Mountain